Meet Dr. JD Haynes
I want to help everyone, it's as simple as that.
Passionate About Helping Houston Live Well!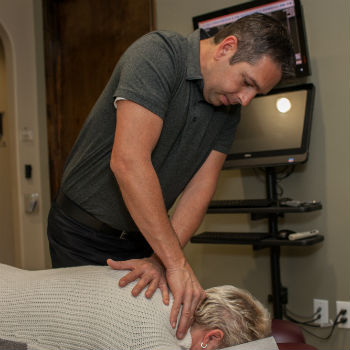 Dr. JD Haynes has always had a passionate desire to help others and make a difference in their lives. Earning his Bachelors of Science degrees in Biomedical Science and Anatomy at Texas A&M University, he planned to become a pediatrician. Yet that's not exactly the way things ended up…
While attending Texas A&M, he hurt his back playing golf. A friend of his introduced him to chiropractic care, explaining how it helps people heal without medications. It convinced him to give it a try, and it was truly a life changer for him.
A Change in His Career Path
During his care, he began to learn more about the principles of chiropractic care and appreciate the fundamentals that it was founded upon. Chiropractic care was the best way for him to fulfill his passion of changing lives and helping people.
After he completed his undergraduate studies, Dr. Haynes enrolled at the prestigious Parker College of Chiropractic in Texas. He completed an internship at UNEVE in Mexico City mastering multiple adjustment techniques while also pursuing disciplines in neurology and nutrition.
Making a Difference, Naturally
Upon graduating from Parker College with a Doctorate in Chiropractic, Dr. JD Haynes began his career with Dr. John Madeira in Hershey, PA. "Working with my mentor at one of the largest chiropractic offices in the country taught me so much!"
While in Hershey, he also had the opportunity to serve and treat the Amish communities in Pennsylvania. Since relocating to Houston, Dr. Haynes has treated thousands of patients including infants, pregnant mothers, teenagers, and adults.
Outside of the Office
When possible, Dr. JD Haynes enjoys spending time with friends and family. He enjoys relaxing on the green and embracing the beautiful outdoors. With a big heart, he wishes he could help everyone in the Houston area feel better and live better. "If I could, I would help every single person."
Wondering how Dr. JD Haynes can help you live well? Give Live Well Family Chiropractic a call and find out today!

Live Well Family Chiropractic | (713) 681-5483
Proudly serving the The Villages, Westwood & Spring Branch communities.