Pediatric & Pregnancy Chiropractor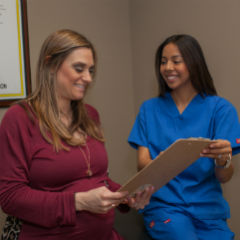 Congratulations, You're Expecting!
We want you to have a healthy and comfortable pregnancy and delivery! Are you experiencing low back pain, neck pain, poor circulation, swelling, restlessness and discomfort?
Feel better, enjoy a smoother delivery and a healthy natural birth!
How Can We Help?
Specialized Care. Certified in the Webster Technique, we help create more room for your child in the womb, maintain a healthy pregnancy and also prepare you for a healthier delivery.
Education. We'll teach you stretches and exercises to practice for a smooth delivery. Using acupressure, you can experience a more relaxed pregnancy!
Partnership and Preparation. We work closely with Baby Boot Camp and Bassett Baby Planning to help both expecting mothers and babies enjoy an easy, relaxing and prepared delivery! We'll work together to prepare you for natural childbirth and let you know exactly how we can help.


Little Miracles and A Healthy Start to Life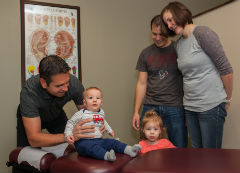 Just imagine… if we catch something early, the difference we can make in your child's life…
Dr. JD Haynes has always loved working with kids and originally wanted to be a pediatrician. Now, he enjoys being a pediatric chiropractor, helping children and families improve their lives.
Children heal so quickly, it's always amazing to see how quick their health progresses.
While working in Hershey, PA Dr. Haynes cared for a 4-year-old patient. This child tested positive for more than twenty allergies and after 90 days of care only tested positive for 2! Now able to play with a dog, enjoy the outside, eat without worrying about food allergens, he and his family's lives have vastly improved!
"It doesn't just change the patient's life, it changes everyone's life around them when they feel better."

Family Screenings
As a member of our practice we highly encourage your family to get checked as well. We even will offer a complimentary visit to your family members if they visit within your first 10 days of joining our patient-family.
Why? Because we truly believe in the importance of preventative, all natural care with a family chiropractor!
Ready to see your child smile brighter, laugh louder and experience a healthy life? We'd love to help!

Pediatric & Pregnancy Chiropractor Houston TX | (713) 681-5483
Proudly serving the The Villages, Westwood, Spring Valley & Spring Branch communities