Auto Accident Chiropractic Injury Care

Don't Wait to Seek Care
Thousands of people in Houston suffer from accidents every year, with a substantial amount resulting in serious injuries. What's unfortunate is that most people don't even realize they are injured until long after the accident. The problems have usually escalated significantly by the time they realize they need help. This is why we recommend getting your spine checked right away!
Any subluxation created in your spine during an accident may remain in your body and prevent you from healing properly. Even a forgotten trip or fall may cause severe health problems later in life. That may be the reason why over half of accident victims never completely recover from their injuries and may live on painkillers, physical therapy or even need repeated surgery.
Sometimes they're told that they'll have to live in pain for the rest of their lives! We don't want this to happen to you…
Pain Relief v. Full Recovery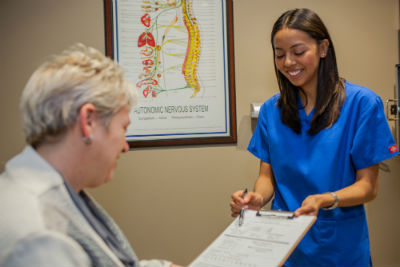 It's important to understand the difference between addressing pain and symptoms and the cause of the pain.
When only treating pain, the root cause of that symptom hasn't necessarily been corrected. That's a big reason why so many people say, "I haven't felt right since the accident," and why they may continue to suffer for months, years or even decades afterwards.
Anyone who has been in an accident, even if there are no obvious symptoms, should get their spine checked. The sooner that you start care the less chance you have of developing long-term problems.
Healing Through Chiropractic Care
Our main focus at Live Well Family Chiropractic is to relieve pain and to improve your body's overall function.
Phase 1. Dr. Haynes will conduct an assessment of your injuries and develop an individualized pain relief and rehabilitation plan.
Phase 2. Promote thorough healing in your muscles, joints and nerves.
Phase 3. Make necessary changes in your lifestyle to help you achieve optimal health for your entire body.
Ultimately, we want you to live well!
If you or someone you know has had an accident, trauma and chronic pain or suffers from health issues…call 713-681-LIVE (5483) to schedule an appointment with Dr. Haynes today!

Auto Accident Chiropractor Houston TX | (713) 681-5483
Proudly serving the The Villages, Westwood, Spring Valley & Spring Branch communities